Registrations
Click on the button below to register for a green waste service.
A one-off fee of $50 payable by credit card is required at the time of registering unless you hold one of these concession cards:
ACTION Gold Card
Department of Veterans Affairs Gold card
Centrelink Pensioner Concession Card
ACTION MyWay Card for over 70s
Department of Veterans Affairs Pension Card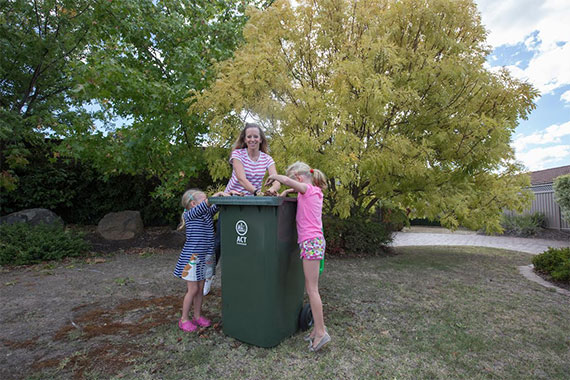 Multi Unit Developments
If you live in a multi-unit development and want a green bin, please read the following eligibility information:
If you currently have individual mobile garbage bins for domestic waste and recycling services, store and present your own bin for collection you may register for the service and receive one green waste bin.

This applies to both kerbside presentations and those residents who present inside the complex outside their own residences.


If you utilise a shared service (e.g. waste hopper) then the body corporate/strata manager will need to contact Access Canberra on 13 22 81 and enquire about the allocation for the complex you live in.
The allocation process will take into account various factors to ensure the right number of green waste bins are provided.
Bin deliveries
You should receive your bin within five working days of ordering.
Opt-out
You may opt-out of the pilot at any time. We will then remove the bin from your residence. No refunds will be provided.
Future rollouts
Green waste bins are proposed for Belconnen and Tuggeranong in the third quarter of 2018. Central Canberra, Woden and Molonglo from mid-2019 and Gungahlin and Hall to start in mid-2020.
---
Want to know more about collection days and acceptable materials?
Download the ACT NOWaste bin app on your device for access to an A-Z recycling guide, get alerts and reminders to ensure that you never miss a collection.